Authentic Application/Practice (Coaching Support for Individual Effectiveness)
The Program
This partnership with a Coach is focused time allowing the individual (Coachee) to leverage his/her unique connection to Values and Strengths for more effective interactions, higher performance, and improved outcomes.
The Method
Through a confidence building methodology, the Coach assists the Coachee in Applying thru Practice a conscious flow of Values to Beliefs to Behavior: leading the Coachee to realize how he/she can handle interpersonal and business situations in a more authentically skilled manner.
The Partnership
The collaborative work of Coach and Coachee follows a methodical flow:
~ Coach engages in initial dialogue with management (as desired) to gather pertinent info
~ Coach/Coachee kick-off session:
* The Coach leverages Coachee's DiSC® Profile (or other preference profile of choice, like MBTI, Insights, etc.) to begin the relationship and build trust (special attention to the profile & the dynamics as applicable to the individual; laying a foundation to understand behavior impact externally)
* The Coach shares a summary of management objectives
* The Coach leads a dialogue to establish objectives for this invested time: a mutual agreement of desired outcomes of engagement
* The Sessions: each subsequent session will focus on real-life issues in the day-to-day of the Coachee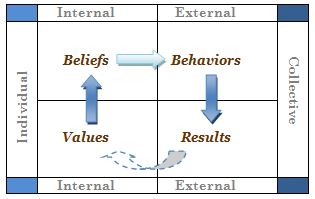 * Along with the selected Personality/Preference Profile, the Coach leverages the Coachee's Values Flow as depicted
* Sessions will focus on Values and Foundational aspects in support of strategies for specific challenges
* Each implemented Practice will be debriefed in the following session
* The Coachee will express what was learned and what can be repeatable, and/or adapted, for the future challenges
* Target the next plan of Practice
Engagement
In addition to an initial session with management (as desired), Coach and Coachee will work together in formal 1-hour phone calls for the period of time agreed upon for the specific engagement; these calls are in support of the Coachee's Authentic Practice. Contact in-between will be agreed on by Coach and Coachee. Formal call pace will be mutually agreed upon in support of the Coachee's Application/Practice.
"I like the tie back to development objectives and manager involvement in supporting practice and feedback.  In these kinds of cases, I think it will help to accelerate the development."
–John, Executive Client in Oklahoma